February 15, 2017
Catholic Relief Services Named Semi-finalist in Competition for $100 Million Grant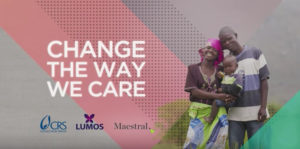 Proposal Developed with Lumos and Maestral International Will Help Children Living in Orphanages Around the World
BALTIMORE, MD, Feb. 15, 2017 — A proposal from Catholic Relief Services (CRS) – developed in conjunction with Lumos and Maestral International – to move children out of orphanages and into families has been named one of eight semi-finalists for a $100 million award in the MacArthur Foundation's "100&Change" competition.
Chosen from over 1,900 entries, this proposal is based on extensive research and experience showing that children are better off with families, not in institutions. "What we are looking for is nothing short of a paradigm shift in the way society approaches the institutionalization of children," said Sean Callahan, Chief Executive Officer (CEO) and President of CRS. "We know that there are millions of children living in orphanages even though 80 to 90 percent of them have a living parent."
The proposed project would reunite children with their families, or place children in family-like settings; transform existing orphanages into family support services; change affected government policies; and move money now going to orphanages towards helping families and caregivers care for their children.
Best known for its MacArthur Fellowships or "Genius Grants," the John D. and Catherine T. MacArthur Foundation started the "100&Change" competition to find and fund a single proposal that promises real and measurable progress in solving a critical problem of our time.
"We hope that the competition inspires individuals and organizations to be bold and think big, because solutions are possible," said MacArthur President Julia Stasch.
The MacArthur Foundation and their expert teams will work with the eight semi-finalists over the next few months to develop more detailed plans for their proposals. MacArthur's Board will select up to five finalists in September. Finalists will present their proposals at an event on December 11, 2017, before the Board names a single recipient to receive $100 million over up to six years.
Each partnering organization brings unique talents and perspectives to this proposal. CRS has long focused on issues affecting vulnerable children. "When we combine our global reach and experience – we're in more than 100 countries, touching 100 million lives — with the expertise and passion of Maestral and Lumos, we know that with the help of the MacArthur Foundation, we can change the lives of children around the world, now and, really, forever," Callahan said.
Dr. Shannon Senefeld, CRS Vice President of Program Impact and Quality Assurance, said the millions of children currently living in orphanages are suffering long-term consequences. "For the youngest, on average, every three months in an institution leads to a one-month loss in development," she said. "Well-meaning people feed the problem, donating millions to orphanages because they believe the myth that these children are better off there."
Georgette Mulheir, CEO of Lumos, agreed. "Eighty years of evidence shows that separating children from families and raising them in institutions seriously harms their health and development and exposes them to abuse, exploitation and trafficking," she said.
"We have proven that when we change minds, we are able to shift funds and change policies, enabling children to return to a family where they thrive both physically and intellectually," Mulheir continued.  "We know that ending the institutionalization of children around the world is a completely solvable problem."
Since 2009, Lumos, founded by J.K. Rowling and named after the light-giving spell in her Harry Potter books, has helped move more than 17,000 children out of institutions and into families, family-like settings, or supported independent living, as well as prevented almost 15,000 children from being admitted to institutions. It has also trained more than 27,000 social workers, medical professionals, teachers, caregivers, civil servants, and policy makers; and helped redirect almost $500 million of donor funds from orphanages toward creating community-based services.
"In essence, the project seeks to change the way the world thinks about children and families," said Philip Goldman, President of Maestral International, a team of globally recognized consultants supporting the development, strengthening, and coordination of child protection systems to ensure children are free from violence, abuse, neglect and exploitation. 
"The evidence shows that when you strengthen families, you not only reduce reliance on institutions, you also provide society with children who are healthier, better educated, and more likely to reach their potential," he said. "This becomes a foundation for supporting the long-term social and economic development of communities and nations.  We are both solving the problem of the most vulnerable and marginalized children, and changing the world."
The MacArthur Foundation is one of the nation's largest independent foundations with assets of approximately $6.2 billion and annual giving of approximately $250 million. The MacArthur Fellowships are only a small part of its philanthropy that supports work in areas ranging from climate change to criminal justice to nuclear challenges.